In times of uncertainty, finding the best side hustles for you is a must.
Why?
Because side jobs can be the answer to how to make extra money while keeping your main career on target.
They can also give you financial security, diversifying your income.
So, if you're worried about how to make money on the side, don't fret. Here's a look at the world of side hustles, including what they are and which side hustle jobs may work for you.
What Is a Side Hustle?
Alright, before we dig into side hustle ideas, let's talk about what a side hustle even is. In the simplest terms, a side hustle is a job or gig you do in addition to your full-time position.
Usually, the best side hustles are a flexible form of employment, like freelancing or project-based gigs. Additionally, many side hustle ideas focus on harnessing your passion or your existing skills.
With a side hustle, you can make extra money and diversify your income. During uncertain economic times (hello COVID-19), side jobs allow you to bring in some cash even if your full-time position changes or disappears.
Additionally, side hustles can help you refine your existing skills, branch out into new areas, and establish your expertise. You can even use these gigs to test out career changes before making the leap.
Now, that doesn't mean it's all sunshine and rainbows. Taking on extra work means you'll spend more time, well, working. It can make work-life balance harder to achieve, depending on how much you take on.
That's why selecting something you enjoy matters. If you're giving up your personal time, don't choose side jobs that make you miserable.
You may also want to avoid side hustles that require a big upfront financial investment. If you have to purchase a ton of equipment, software, or product inventory to get started with a gig, that's risky. If you can't afford that potential loss, it's not the right side hustle for you.
Top 20 Side Hustles
1. Freelance Writer
If your written communication and research skills are on-point, freelance writing could be a good side hustle for you. By going the freelance route, it's flexible. You'll take on assignments – like writing blogs, social media posts, articles, or reports – and make sure they are submitted by the due date.
Once you get going, you may be able to earn about $30.39 per hour. Plus, there are a surprising number of platforms that can help you find work, like Fiverr and Upwork, which is nice.
2. Resume Writer
Resume writers help professionals spruce up important job application documents. The focus is usually on resumes, though you might assist with cover letters, LinkedIn profiles, and more.
Resume writing is a great freelance option. Along the way, you can earn about $21.00 per hour, which is certainly respectable.
3. Personal Trainer
If you're physically fit and a good teacher, you could launch a personal training side hustle. You'll help people develop workout routines and make sure they use proper form, either in person or through video chats.
Along with being able to control your schedule, you could earn a pretty penny. Earning $19.42 per hour is pretty common, and some personal trainers make over $36.25 per hour.
4. Deliver Food
During COVID-19, the popularity of food delivery soared. Why not take advantage of that in 2022? By signing up with a food delivery service like Uber Eats, Instacart, Grub Hub, or PostMates, you can get in on that action while working only when you want.
How much you can make varies dramatically from one area to the next. However, you could bring in around $15.00 per hour, which isn't too shabby.
5. Transcriptionist
If you're a fast typist and have a great ear, becoming a transcriptionist could be one of the best online side hustles for you. You'll spend your time listening to audio recordings and typing out what's said; it's that simple.
Exactly how much you can earn depends on your niche. For example, if you have some medical knowledge or healthcare expertise, you may be able to snag a position as a medical transcriptionist. If you do, making around $16.05 per hour is the norm.
6. Social Media Manager
If you're social media savvy, working as a social media manager could be the right online side hustle for you. You'll help a company create and schedule posts, as well as engage with their audience and commenters.
Generally speaking, social media managers earn about $16.09 per hour. However, you could cross the $27 per hour mark if you have solid marketing chops and a proven track record.
7. Sell Crafts
If you make handmade items, you may be able to turn your crafting habit into an easy side hustle. Etsy is a bastion for anyone selling handmade goods, covering nearly any category you can imagine.
How much you make will depend on what you're offering. However, the potential is there to rake in a little… or a lot. One college student snagged $100,000 over three years. While that isn't the norm, it shows what's possible.
8. Item Flipping and Upcycling
When you need to make extra money fast, selling some of your stuff can be a great option. However, you can actually turn this kind of selling into a full-blown side hustle if you jump into the world of item flipping and upcycling.
With this, you seek out valuable pieces at thrift stores, garage sales, or online marketplaces. Then, you spruce them up and relist them for what they're worth.
Figuring out what is and isn't worth flipping can take a bit of research and practice. But if you get the hang of it, you could make a solid bit of cash, like an extra hundred bucks or so a month. Some of the pros even bring in six-figure salaries, which is pretty amazing.
9. House Sitting
Technically, all you need to do to nail this job is be present… and maybe water some plants, gather the mail, and do a little dusting. House sitters usually end up in higher-end homes that the owners don't want left empty, so being there is the bulk of the job. And, for your presence, you could earn $20 to $100+ per day, depending on where you live.
10. Question Answerer
Alright, so that isn't really a formal job title, but it is a fair description of the work. Through sites like JustAnswer – which touts that its users earn an average of $2,000 to $7,000 monthly – you can get paid to answer questions posed by users.
Generally, you need a proven area of expertise to get started. However, that expertise can be in nearly any subject, making this an option for a surprising number of people.
11. Online Subject Tutor
If you know a subject well, becoming an online tutor is one of the best side hustle jobs around. You can completely control your schedule, as you have the ability to decide how many students to take on. Plus, most of your work will be during those tutoring sessions, though you may have to spend a little time on preparations, too.
Tutors usually bring in around $18.92 per hour. However, depending on your niche, you could earn $41.97 per hour or more.
12. Sell Online Courses
Another side jobs option for those who want to share their knowledge with the masses, selling online courses can be worth exploring. By creating a thorough and engaging class, you can help others build their skills, which is pretty awesome.
Plus, this can turn into a passive income stream. Once a course is up, as long as it stays relevant, it can keep making you money.
How much you earn depends on several factors, including your course's price point and the platform you use. However, certain instructors on Udemy bring in hundreds of dollars a month and some rake in thousands.
13. ESL Instructor
While teachers typically have degrees in education, an online ESL instructor may not need one. As long as you have strong fluency in English, you may be able to use your expertise to help others learn it.
How much you can make can depend on the platform you use. Without teaching credentials, you might bring in around $14 to $18 per hour. However, if you happen to be a licensed teacher, then about $26.13 per hour is possible.
14. Dog Walker
Looking for ways to make extra money that let you get some exercise along the way? Then dog walking could be right for you. Your job is to help pups get a chance to stretch their legs and do their business (cleaning up after them, of course).
Along the way, you can make around $12.02 per hour. However, you might be able to earn more in less time if you can range several dogs at once.
15. Driving Instructor
Teaching other people to drive can be a great side hustle option. Depending on where you live, you might need to become a licensed instructor, a process that can involve background checks, reviews of your driving record, a special course, and similar steps. But if you take it on, it could be worthwhile.
Driving instructors usually make about $24.25 per hour. However, some earn more than $32.17 per hour, which is pretty impressive.
16. Translator
If you're bilingual or multilingual, one of the best side hustle ideas for you could be translation. Many translation jobs are remote and flexible. You'll receive a document or audio file that you need to convert from one language to another. As long as you finish by the deadline, you're good to go.
Translators can bring in $24.92 per hour usually. That's really good for an online side hustle that doesn't necessarily require a ton of experience.
17. Website Tester
Through sites like UserTesting, you can make extra money by sharing your opinion about websites and apps. All you have to do is discuss your experience openly and honestly, explaining what you like and dislike about an app or site.
Now, website tests aren't always available. You have to qualify for each one, so you may only be able to complete a few here and there. But when you do qualify, you can earn $10 per 10-to-20-minute test, which works out to $30 to $60 per hour. And longer tests can pay $100+, depending on the time commitment.
JEFF'S TIP:
Does this mean that surveys are good side income? They work the same way, right? Well, sort of. The qualifying process is similar.
The trick is, many surveys pay pennies, and you'll get disqualified a lot.
Overall, you may only earn
$0.41 to $2.03
an hour. Does that sound worthwhile? We didn't think so. Your time is valuable, so focus on side hustle jobs that actually pay.
18. Voice Actor
For anyone with a distinct or pleasant voice, working as a voice actor could be one of the best side jobs around. You'll record scripts for commercials, television or films voiceovers, video games, and more, and could earn $20.43 per hour along the way.
19. T-Shirt Designer
On sites like CafePress, you can upload t-shirt designs (or graphics for coffee cups, stickers, and more) and make a little cash with every sale. You'll earn a royalty for each purchase, so your earning potential can vary. But it's fairly passive as, once the design is available, it can keep bringing in royalties all on its own.
20. Graphic Designer
Graphic design lends itself well to the freelancing world. You can earn about $25.05 per hour creating logos, social media graphics, and more, all on your own time and in a way that works with your schedule.
Putting It All Together
Ultimately, the best side hustles for 2022 give you the ability to achieve financial security while remaining flexible. Explore the options above and see if any speak to you. If so, consider giving it a whirl.
Thanks for reading!
—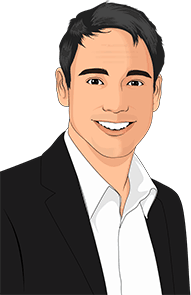 Co-founder and CTO of TheInterviewGuys.com. Jeff is a featured contributor delivering advice on job search, job interviews and career advancement, having published more than 50 pieces of unique content on the site, with his work being featured in top publications such as INC, ZDnet, MSN and more.
Learn more about The Interview Guys on our About Us page.