By Jeff Gillis
This is Part 2 of a 3-part series on getting more job interviews and more job offers:
Part 2 – [You Are Here] – How To Create Your Own Personal Branding Website
Hopefully by now you understand how powerful it is having your own personal website when it comes to getting more job interviews and more job offers.
If you're not convinced yet, be sure to read part 1 of this blog series!
What Is A Domain Name & Why Do I Need One?
A "Domain Name" is simply the "virtual address" of a website online.
For example, google.com is a domain name. The domain name for the website you're on right now is theinterviewguys.com.
Pretty simple right?
The question is, why is a domain name important for you in your job search?
It's all about controlling your personal brand online.
Think about this situation:
Let's say there's a job seeker named: Jim Canlon.
Jim gets an interview with a company he would be thrilled to work for.
Before the interview, the hiring manager he's about to interview with quickly pops online and types into Google: jim canlon.
Several results show up, including jimcanlon.com.
The hiring manager assumes that this is Jim's website, clicks on the result and comes to an ugly looking blog that looks like it was made in 1998 and is run by a different Jim Canlon.
The blog consists of one thing and one thing only: hours and hours of homemade videos of him and his dog "Arlo" practicing to try and get into the Westminster Dog Show.
So how does this affect Jim's job search and interview?
He has just missed a massive opportunity to "wow" the hiring manager with a polished, professional yet simple looking personal website that highlights Jim's personality, qualities and professionalism --- AKA his Personal Brand.
Not only that, but since Jim failed to secure his personal domain name (jimcanlon.com), every time anyone types "jim canlon" into Google they won't be faced with Jim's Personal Branding Website but will find Jim #2's blog chronicling he and "Arlo's" years of struggle!
I hope that little "story" helped illustrate how important it is to secure your domain name so you can take control of your brand online!
(And if you were thinking, "Well what happens if someone else does have my exact name as a domain, what do I do then?", don't worry, because we are going to show you exactly what to do in the short video below…)
Here's another way that little story could have played out:
The hiring manager could have typed "jim canlon" into Google and found…NOTHING!
That's just as bad!
In this case, from the point of view of the hiring manager, Jim has made ZERO mark on the world!
I'm being dramatic but you see what I'm getting at, right!?
Take control of your online presence!
So the next thing you want to do is:
Check to see if your personal domain name is available:
Ok, now the fun part! Let's take a look to see if your personal domain name is available!
Watch the short video tutorial below.
In it, Mike and I walk you through the process. It's super quick and easy!
Click and play the video now:
NOTE: Unfortunately because of a proposed law that has come about recently, domain name prices are going up. Because of this, domain registrars like Godaddy are upping their prices. The best deal we could find is the $4.99 one that we now link to. (Still at Godaddy) If you want to read about this new law, read more here.
Download Our Handy Companion Checklist

To make it super easy for you to follow along with this tutorial we have created a nifty checklist that walks you through the steps it takes to getting your own personal branding website up and running in under 15 minutes.
Download it now!
Download Our Personal Website Setup Checklist
The checklist contains detailed instructions along with helpful images so you can follow along without having to pause and rewind the video tutorials on this page.
Detailed instructions in step-by-step numbered format so you can set up your website super quickly & easily.
Helpful images. "Screenshots" from the whole process so you can follow along and not have to pause and rewind the tutorial videos on this page.
How To Get Your WIX Personal Website Up And Running In 15 Minutes

I'm going to take a wild guess that you may be a little skeptical of your ability to quickly and easily create your own personal website….
…let alone in under 15 minutes!
And you know what?
To be honest, creating a personal website the way we used to recommend by using the website platform WordPress was a little tricky and could be a bit time consuming! (That's not to say it wasn't worth it in my opinion!)
However, we've come across a far easier way with the Wix Website Builder. This thing really is awesome!
I have built 2 other websites using Wix and it is certainly a lot more "user friendly" than WordPress. WordPress does have more customization options  and addons but comes with a much steeper learning curve. If you ARE interested in WordPress check out my video at the bottom of the article over here.
Here's why Wix is our new recommendation when it comes to building your own personal website:
The platform let's you choose from hundreds of "done-for-you" templates INCLUDING (this is big!):

resume/cv style templates that are already perfectly set up for the exact layout we recommend!

They use a simple "drag and drop" editor that allows even the newest newbie to edit their website incredibly easily. (Plus if you use one of the templates all you have to do is add your own personal info and some tweaking to make it more personal and unique to you and you're good to go!
Wix is the quickest and easiest way to creating a

PROFESSIONAL

looking personal website. (You need to put your best foot forward online and Wix let's you do that with their slick templates.)
Instead of just sending you over to Wix and letting you fend for yourself, Mike and I thought it would be more helpful if we just showed you step-by-step how to get your personal branding website up and running ourselves.
Follow along with us with the video below:
3 Good Wix Templates For Job Seekers
Here are the 3 templates we mention in the video. These are good options for job seekers.
(NOTE: Having said that, don't feel like you HAVE to pick one of these! WIX has so many great templates that you can make your own! Remember, because of it's "drag & drop" functionality it's super easy to tweak any of their templates.)
Frequently Asked Questions
Q. Why do I need a personal website and how does having a personal website help me get a job?

Having a personal website is a necessary part of the modern job seeker's (aka YOUR!) personal brand and portfolio. It allows you to impress hiring managers, differentiate yourself from your competitors, increase your visibility (by "owning" your Google search), create an online "hub" for your brand (that you control) and express yourself in a way that just isn't possible with a cover letter and resume.

Once I have built my site, where do I link to it?

The three key documents that should contain links to your personal branding website are: your cover letter, your resume, and your thank-you letter (or email).

Do I need to be good with computers to build my site?

Absolutely not! Not only have we selected the easiest website builder available (which makes use of pre-made templates and simple drag and drop customization), but we've also taken the time to walk you through the entire 15 minute process step-by-step.

How detailed and complicated does my site need to be?

Data shows that hiring managers are more impressed with applicants that have a personal website compared to those that don't, and it is really as simple as having an "online business card" that acts as the hub to your online brand.

That means you don't need to have a fancy or complicated site. It's a huge advantage just to have a website, and you can start with something very basic (until you either have more you'd like to share OR you become more comfortable with editing the site).

What is a domain?

A domain is like the "address" of your website. It can be found in the search bar at the top of your web browser (ex. ours is theInterviewGuys.com). For job seekers, a domain usually follows the formula of firstnamelastname.com.

Why do I need to secure my domain today?

Securing your domain is extremely important if you want to protect your online brand. Even if you aren't ready to make a website today, you should still secure your domain because if it is available, anyone can secure it.

How do I see if my domain name is available? Where do I register my domain?

You can see if your domain name is available by clicking here. If it is available, you can easily register it through GoDaddy. We highly recommend watching the video in Step One on this page because it walk you through the steps.

What do I do if my domain name isn't available?

If your domain name isn't available, don't panic! There are several variations you can try that are completely acceptable. Use a hyphen between your first and last name, put in a middle initial or your middle name, and finally, register a .net address instead of a .com.

How much does it cost to register my domain with GoDaddy?

If you click this link, it will only cost you 99 cents for the first year! You'd be hard-pressed to find a domain name cheaper anywhere online, but please let us know if you do!

How long should I register my domain for?

It's really up to you, but we suggest that you start with a year and go from there. GoDaddy will remind you as the year end approaches and you can easily renew it.

What is Wix?

Wix is an online website building service that allows people of all abilities to quickly and easily make their own websites. Using the combination of professionally designed templates and "drag and drop" capabilities you can literally get your website up in less than 15 minutes.

Why do we recommend Wix over other website builders?

Wix provides the most amount of benefit for the best price combined with outstanding 24/7 customer support. More importantly, it is the easiest platform to use, as all you really need to do is make quick changes to the templates they provide.

How long will it take me to build my Wix site?

If you follow the video above in Step 3, you can have your site up in less than 15 minutes!

What do I get with my complimentary Wix account?

Your complimentary Wix account gives you a free template and domain name. However, the domain is not usable and the template has Wix ads on it. So you must buy a $12.95 per month premium account to remove the ads and connect your custom domain.

How do I know which template to choose?

You can choose any of their templates to be honest. However, they have a section built specifically for job seekers called "Resmes & CVs". But we have also provided three templates that we think are good choices. It's up to you! Pick a template that reflects YOU.

How much does it cost to get my website online?

Your total cost to get your site online today is $13.95. This includes the 99 cents you paid for your domain and the $12.95 Wix charges to remove their ads and connect your personal domain.

How do I connect my domain name to my Wix site?

To see how to connect your custom domain name to your Wix site, please watch the video in Step 3.

If I don't like it, can I get my money back?

Absolutely! If you give it an honest try and it just simply isn't for you, Wix will refund you in full if you email them within two weeks. They also refund you instantly so you don't have to wait for days for your account to be credited.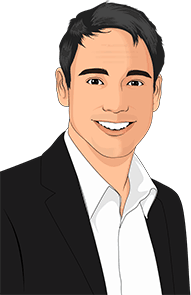 Co-founder and CTO of TheInterviewGuys.com. Jeff is a featured contributor delivering advice on job search, job interviews and career advancement, having published more than 50 pieces of unique content on the site, with his work being featured in top publications such as INC, ZDnet, MSN and more.
Learn more about The Interview Guys on our About Us page.