The accounting profession has been around a long time, essentially getting its footing in the United States in 1887. That's more than 130 years ago. That makes it older than Mount Rushmore, if you can believe it.
In a way, being an accountant means joining a landmark profession. It really is a classic, and one that 1.26 million people think is worthy of pursuing.
Even with its robust roots in the United States, many people still don't fully understand what an accountant does. Sure, they know it's connected to finance and that most accountants are math whizzes. But that really only scratches the surface of what these number geniuses do and know.
If you have questions about the accountant job description, wonder no more. We have the answers you seek.
What is an Accountant?
In the simplest sense, an accountant manages, reconciles, and reports on financial information. However, there are actually several kinds of accountants. Precisely how they use their talents can vary.
Some accountants work for companies, handling portions of the financial side of the house. Others work with a range of outside clients, helping them with their accounting needs. In some cases, accountants specialize in working for the government, assisting agencies with their financial records.
Auditing can also be part of the accounting role. For these professionals, reviewing records, identifying errors, and ensuring companies are following various regulations is what it's all about.
What Are an Accountant's Duties/Responsibilities?
Since there are several kinds of accountants, their exact duties and responsibilities can vary. Plus, every organization might have different expectations of those working in these roles, leading to even more variety.
At the core of every accounting role is financial records. That's what brings them all together. But they can also have plenty more in common.
Here's a look at some responsibilities an accountant may have:
Budget preparation
Transaction recording
Account reconciliation
Report creation
Send / receive invoices
Send / receive payments
Enforce payment terms
Account analysis
Auditing and error identification
Adherence to tax and financial laws
Work with accounting or ERP software
Improve accounting processes and procedures
Accountants may also do a significant amount of data analysis. For example, they might review records to determine the financial health of an organization or to determine why the company may be losing or increasing revenue. Similarly, they might use data analytics to make recommendations designed to help the company financially, like moves that could reduce the organization's tax burden.
If you will be meeting with a hiring manager, and answering accountant interview questions, keep the responsibilities above in mind. However, also understand that it isn't a comprehensive list. Along with those points, review the job description closely so that you can find out exactly what that hiring manager wants to find.
What Skills Do Accountants Need?
As you can see, there's a lot more to being an accountant than just doing math. This respected profession has been around for more than a century and requires skills beyond arithmetic (though that is certainly important, too.)
What skills do accountants genuinely need to thrive? In most cases, it's a mix of technical prowess and soft skills. Here's a look at the more technical skills and knowledge areas:
Mathematics
Asset management
Data analysis
Financial reporting
Accounting software
ERP and CRM software
Microsoft Excel
Regulatory compliance
Tax law
Business acumen
Collections
Collaboration software
But that isn't all a great accountant brings to the table. They also have a range of soft skills that help them excel. Here's a look at which ones are critical:
Attention-to-detail
Organization
Time management
Problem-solving
Critical-thinking
Communication
Team-oriented
Other soft skills can also provide employers with value, so it's fine to showcase your capabilities in different areas as well. Those above just tend to be the most critical, so make sure you address them if you want to succeed as an accountant.
What Accountant Certification, Education, Training is Required?
Many professions require a certain amount for formal education, and accounting is no different. Generally, accountants have at least a bachelor's degree, typically in accounting or a related field, like finance.
In some cases, those studying the field will minor in a subject that can help them achieve their professional goals. For example, minoring in business can be a smart move. At times, a technology-oriented minor can be beneficial, as well.
However, those who really want to reach the upper echelons don't stop at a four-year degree. Instead, they earn a master's in accounting or land an MBA with an emphasis in accounting. If you want to reach the management ranks, that may end up being a job requirement, as some companies do consider a master's a must.
As far as certifications, you technically don't have to have one to be an accountant. However, if you don't pick one up, you might be stymieing your career a bit.
With a certification, you make yourself more credible. Plus, some organizations require specific certifications, usually including them in their accountant job description for the opening. So, if you don't have the credential, you can't hold that job; it's that simple.
Which certifications you'll need depends on your specialty area. Here's a look at some of the options that are worth considering:
There are also quite a few more. But those above tap on nearly every kind of accountant a person may be, so it's a reasonable overview.
What Are the Salary Expectations?
For accountants, the median annual salary is $70,500. However, those starting out may begin with a salary closer to the lowest 10 percent, which comes in at $43,650. In contrast, an accountant with strong credentials and a substantial amount of experience can easily earn more. In fact, the top 10 percent come in at nearly $123,000.
But don't go nuts and rush off to put a down payment on your dream vacation home by the beach. Assuming you're going to be at the median or higher, especially early in your career, just isn't a smart move.
An accountant's pay is usually based on a ton of factors. The compensation equation can be surprisingly complicated, addressing details like a professional's education, experience, skillset, and specialty area.
Where the job is located also plays a role. After all, salaries tend to be higher in cities like Los Angeles than they are in places like Mobile, Alabama.
Make sure you take that compensation information with a grain of salt. While you can reach the upper ranks, those sorts of pay levels take time. It is almost guaranteed not to happen immediately, so be patient and know that it's something you can work toward, but likely won't see as an entry-level candidate.
If you're interested, here is a breakdown of the accounting sectors that have the highest median wages. (According to a study by the U.S. Bureau of Labor Statistics.)
| | |
| --- | --- |
| Finance and insurance | $74,690 |
| Management of companies and enterprises | $73,180 |
| Accounting, tax preparation, bookkeeping, and payroll services | $70,640 |
| Government | $68,420 |
Source: Bls.gov
What You Need to Know for Your Job Interview
If your preparing for a job interview and want to make sure you can nail any accountant interview questions and answers, there's one place you should always start: the accountant job description. It's a treasure trove of information, including insights into what the hiring manager is trying to find in a perfect candidate.
If you want to land the job, you need to clearly show that you're the best candidate. Use the job description to find the skills and qualities they are highlighting there as a guide. Find ways to highlight those skills when you speak with the hiring manager. Choose examples from your past that you can work into behavioral interview questions to make the biggest impact.
JEFF'S TIP:
While you want to use the
STAR Method
and
Tailoring Method
for behavioral interview questions, you might be wondering what you need to do with yes/no interview questions. What if the hiring manager asks, "Do you have skill X?" You should just say, "yes" or "no" and move on, right? Of course not! Even if you're asked a yes or no question, you always want to elaborate. If your answer is "yes," add in some details that showcase where you acquired and refined that skill. If your answer is "no," adjust it to "not yet," and then discuss how you'd go about getting it or your willingness to learn. Your answer will be more meaningful, and that works in your favor
It's also smart to take some time to go over the top accountant interview questions. That way, you'll know what is probably on the horizon, and can have your answers at the ready.
Putting It All Together
Accountants need a unique combination of skills, experience, education, and certifications to excel. Whether you work in the field, or are striving to become an accountant, keep the information above in mind. Then, you can make sure your efforts will genuinely help you thrive professionally.
And as always, good luck!
—
Check out our other "job description articles" if you're exploring career options:

—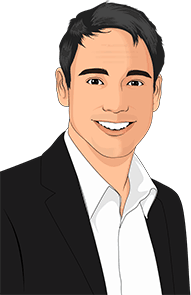 Co-founder and CTO of TheInterviewGuys.com. Jeff is a featured contributor delivering advice on job search, job interviews and career advancement, having published more than 50 pieces of unique content on the site, with his work being featured in top publications such as INC, ZDnet, MSN and more.
Learn more about The Interview Guys on our About Us page.